What is Group Therapy?
During the current covid-19 situation we will not be offering group therapy, however we are still able to continue offering idividual telephone or online counselling sessions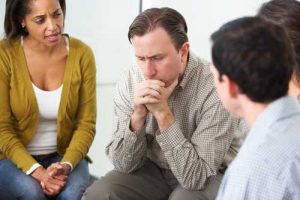 Group therapy is a 90 minute session meeting weekly.
We offer refreshments and a place for people to share their thoughts and feelings and support others. It may seem very daunting. But group therapy can be very effective and supportive for many people.
It is more beneficial to commit to a number of sessions, we will discuss this with you, we usually run a group for 8-10 weeks.
We work on a wide range of issues and challenges in a safe and confidential environment. There is an agreement made by group members to keep the content of the session confidential.
Valuable learning from group work is gained via direct interaction listening and observing.
Being part of a supportive therapy group can give you strength and hope, particularly during a testing time in your life.
The counsellors help group members to raise and deal with difficult or sensitive issues in a safe supportive way.
Loss & Bereavement
The grieving process can be very difficult or excessively painful. Your loss may not have been recent but you are still grieving and finding it difficult to move on.
You may feel alone not able to talk to friends or family. Coming to a group where others have experienced similar feelings could help with your recovery process, you are able to share your story with others who are experiencing similar feelings. You will have the support of a counsellor and others in the group, sharing whatever feels comfortable for you, as well as meeting new people.
Anxiety
Anxiety is a word we use to describe feelings of unease, worry and fear. It incorporates both the emotions and the physical sensations we might experience when we are worried or nervous about something. Although we usually find it unpleasant, anxiety is related to the 'fight or flight' response – our normal biological reaction to feeling threatened.
We all know what it's like to feel anxious from time to time. It's common to feel tense, nervous and perhaps fearful at the thought of a stressful event or decision you're facing – especially if it could have a big impact on your life. For example:
sitting an exam
going into hospital
attending an interview
starting a new job
moving away from home
having a baby
being diagnosed with an illness
deciding to get married or divorced
In situations like these it's understandable to have worries about how you will perform, or what the outcome will be. For a short time you might even find it hard to sleep, eat or concentrate. Then usually, after a short while or when the situation has passed, the feelings of worry stop, but if your feelings of anxiety are very strong, or last for a long time, it can then become a problem.
Low self-esteem/confidence
We all have times when we lack confidence and don't feel good about ourselves.
But when low self-esteem becomes a long-term problem, it can have a harmful effect on our mental health and our lives.
Self-esteem is the opinion we have of ourselves. When we have healthy self-esteem, we tend to feel positive about ourselves and about life in general. It makes us able to deal with life's ups and downs better.
When our self-esteem is low, we tend to see ourselves and our life in a more negative and critical light. We also feel less able to take on the challenges life throws at us
How does low self-esteem affect us?
The problem with thinking we're no good is that we start to behave as if it's true. "Low self-esteem often changes people's behaviour in ways that act to confirm the person isn't able to do things or isn't very good," says Chris Williams, Professor of Psychosocial Psychiatry at the University of Glasgow.
If you have low self-esteem or confidence, you may hide yourself away from social situations, stop trying new things and avoid things you find challenging.
"In the short term, avoiding challenging and difficult situations makes you feel a lot safer," says Professor Williams. "In the longer term, this avoidance can actually backfire because it reinforces your underlying doubts and fears. It teaches you the unhelpful rule that the only way to cope is by avoiding things."
Living with low self-esteem can harm your mental health, leading to problems such as depression and anxiety. You may also develop unhelpful habits, such as smoking and drinking too much, as a way of coping.
How does group therapy compare to individual therapy?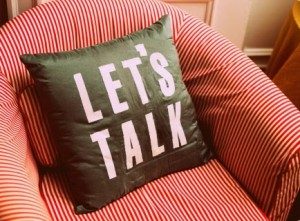 In a group there is the opportunity to listen as well as to talk. The very act of sharing with others who are also experiencing difficult feelings can substantially reduce feelings of isolation.
This is a therapeutic process in itself, and is a good starting point for continuing therapeutic work.
A therapy group has the potential to provide a supportive and safe place within which to explore the painful thoughts and feelings that it may not feel safe to express elsewhere.
Will I have to reveal information about myself in a group immediately?
No. It is common to feel anxious at first, the thought of joining a group and talking about yourself can be difficult.
Most people will take a little time to feel at ease in a new group, and everyone goes at their own pace.
However, people usually feel better once they have begun to share their issues and difficulties with others, and are reassured by the confidentiality of the group and listening to others.
This often helps and reassures you are not on your own. Our groups are also about passing on information along with some activities, we understand the stresses we are under in todays world and aim to provide you with some tools to help deal with these by introducing you to various self help activities you may not have previously experienced. Which in turn may help you to cope or deal with stress easier.
Group
Coffee/tea
Introduction of leaders
A bit about yourselves and what you want from the group.
What the group would like to work on.
Information/techniques about various topics chosen by group ie how to manage anxiety/stress.
Discussion whole group and small groups around a topic
Activities ie. Art, written expression, certain topic discussion/work
Benefits of essential oils and natural therapies
Creative ideas
If you would like more information or know somebody who you think may be interested please contact us.
Keep checking our website for up-to-date groups locations and workshops.
Everyone welcome, groups and 1-1 sessions available.
Locations. LS26 near to Rothwell & Wakefield, close to motorway, on bus routes with free parking and LS7 Scott Hall Road, close to Leeds centre, good bus routes with free parking.